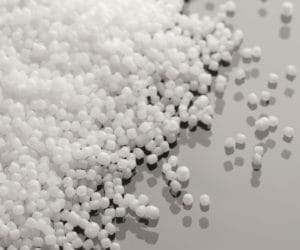 Dry blending of polymers and additives is available at Foster Corporation as a standalone service.  Contract blending is available for both pellet and powder forms.
While melt blending or compounding provides superior dispersion of polymers & additives, dry blends are prepared without the presence of heat, thereby reducing the potential for thermal degradation. Dry blending is also a more economical alternative to melt blending and is therefore a practical process method for those applications with less rigorous performance or appearance requirements and a greater emphasis on cost.
In some instances, dry blending prior to compounding is an effective technique for improving material handling and dispersion, when multiple additives are involved in the formulation. Foster Corporation is equipped to handle these programs that require both process techniques.
Foster Dry Blending Capabilities:
Pellet – Pellet: Batch sizes beginning at 50lbs.
Pellet – Powder: Batch sizes beginning at 50lbs
Powder – Powder: Batch sizes beginning at 100lbs.