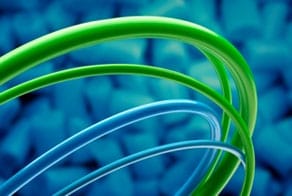 Today's minimally invasive surgery techniques involve incisions small enough for a surgeon to insert a catheter into a blood vessel to treat diseased blood vessels, clean out blocked vessels, or deliver clot‐dissolving medications directly at the problem area.
Vascular catheters used in minimally invasive surgery face a number of design challenges. While they must be fairly stiff at their proximal end to allow the pushing and maneuvering of the catheter as it progresses through the body, they must be sufficiently flexible at the distal end to allow passage of the catheter tip through the smaller blood vessels without causing significant trauma to the blood vessels or to the surrounding tissue.
This combination of flexibility, high tensile strength and compression resistance is what makes designing a vascular catheter challenging. Selecting the appropriate polymer for an optimum catheter design requires an understanding of the biological, physical and chemical characteristics as well as a thorough knowledge of the polymers that are commercially available.
Biological Properties
Biocompatible
Non‐irritant
Low thrombogenicity
Non‐carcinogenic
Resists microbial adhesion
Physical Properties
Tensile Strength
Resistance to Compression
Optimum Flexibility
Low Coefficient of Friction
Dimensional Stability
Ease of Fabrication
Radiopacity Capability
Tolerates Physical Sterilization Methods
Chemical Properties
Absence of Leachable Additives
Stability during Storage and Implantation
Stability during Chemical Sterilization
Permits Adhesion in Fabrication
Accepts Surface Coatings
Chemical Resistance