The late 1980s and 1990s represented a major transition period for medical plastics. Major resin producers were scared off by litigation issues following failures of silicone implants. At the same time, markets such as catheters were just emerging and needed development partners.
A new generation of entrepreneurs emerged to fill the gap.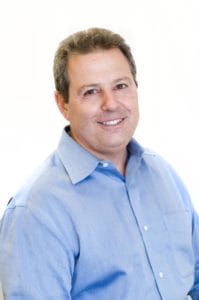 One was Larry Acquarulo, who left compounder LNP to start a specialty medical compounding business called Foster Corp. (Putnam, CT) in 1989. It was "hand-to-mouth for a few years" Acquarulo told Plastics Today in an interview at MD&M West in Anaheim, CA.
Now sales are in excess of $25 million. The company operates more than 10 twin screw extruders with outputs ranging from 10 lbs/hour to 1000 lbs/hour in facilities in Putnam, CT and Las Vegas, NV.
The company is making innovations in nano compounds, bioresorbable plastics, combination products and other areas in a Polymer Innovation Lab with a twin screw extruder, injection molding machine, and film/tube extrusion equipment.
Starting below, Acquarulo discusses what's happening in the medical plastics business in a two-part interview with Plastics Today.
Q. Larry, how does Foster fit in?
Foster was founded on providing highly specialized polymer compounding services to the medical device industry. At the time, medical devices such as catheters were in an emerging phase and the volumes consumed were relatively small. Many traditional compounders were not set up to service these volumes.
Today, a great deal of innovation is occurring in implantable devices and the demand for suitable polymers is evolving and expanding. Due to regulatory requirements, small volume consumption, and high profile litigations in the 1990s related to implants, many material suppliers are hesitant to serve this market. Those that do often charge a premium associated with higher regulatory compliance costs, risk management costs, and lower volumes purchased.
Foster has embraced serving emerging implant customers with customized polymer solutions as we did with catheter customers in the 1980's. However, not all raw material suppliers are willing to serve this market. Sourcing raw materials can sometimes be a challenge for permanent implants.
What is the projected growth rate this year for medical plastic compounds in the USA? Is Foster growing? Adding equipment this year?
Medical plastic compounds are used in a wide variety of segments within the market, such as devices, equipment housings and tray and fabrics. A substantial amount of our compounds are used in devices, which continues to grow at approximately 5-10% on average. We anticipate plastic compounds used in devices will grow within this range. To serve larger volume medical applications outside of devices, such as custom colored polymers for wound care and disposables, we recently invested in a large twin screw extruder capable of over 1,000 lbs/hour throughput.
It seems that device makers are anxious to develop differentiated products and want suppliers to contribute ideas. Do you see that trend? How can compoudners contribute? (Physical, electrical effects? Something else?)
There is definitely a trend towards devices with unique attributes from their materials of composition. Combination products, with drugs blended into polymers, for local drug delivery or controlled release is one of the most exciting. In our GMP cleanroom we are able to blend certain drugs into compatible polymers to produce compounds with active pharmaceutical characteristics.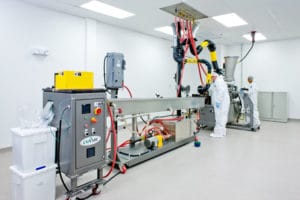 We have also been doing considerable work in the area of antimicrobial compounds used for devices in which bacteria buildup and infection is problematic.
Another area involves nano-reinforcements used to enhance the physical properties of plastics at the molecular level. This is important for vascular catheters that are getting smaller with thinner walls, but must be stiff enough to be pushed through vascular pathways. Standard fiber reinforcements are simply too large to be used in these extremely thin walls.
Some design engineers have complained that companies have launched new medical grades, forbidding use of other grades for medical applications, even though other standard or FDA grades had been used for medical applications for a long time. How valid are the complaints?
Regulatory requirements for medical devices have been gradually moving up stream over the past several years. Tighter material specifications for medical applications, USP and ISO-10993 testing compliance, no-change policies for manufacturing or formulations are some examples. In many cases these requests have been made of the raw polymer suppliers. This has made polymer suppliers more aware of the unique requirements of the medical market.
At the same time, the medical market often commands a lower volume of raw materials than other markets, such as automotive or industrial.
These converging dynamics have resulted in some companies stepping forward to service the market with specialized grades for medical applications, while others have exited due to perceived risks or returns.
Q. Larry, what do you see as the biggest trends in medical compounding?
On one end of the spectrum, compounding is moving towards smaller, more specialized applications in which both the polymers and additives are extremely expensive. This includes combination products and hot melt extrusion for pharmaceutical drug delivery.
On the other end are the larger volume applications, such as wound care and disposables, in which the markets continue to grow but healthcare cost pressures and competition demand more price improvements from raw materials. For compounders, throughput is one way to achieve this, yet quality cannot be compromised in the process.
What's the future for bioresorbable compounds and what is Foster doing in that area?
Bioresorbable compounding is a fast growing area for us. We do a great deal of work in blending specialty additives into bioresorbables to give them unique properties. The two most common include bone-growth additives for orthopedic devices and active pharmaceutical ingredients for local or controlled release drug delivery.
What's the potential for nano reinforcement in medical? Does Foster have any applications? What types of compounding equipment modifications are necessary?
We have been working on nano reinforced polymer formulations for more than a decade. While the equipment to manufacture such formulations is commonly used in other medical device compounding operations, the process is highly specific and proprietary. Without the right process, these fine particles can agglomerate in the polymer. Dispersion is critical. We have experienced considerable interest today as catheters and similar devices continue to decrease in size and wall thickness while still demanding property performance.
Demands for cleaner (purer) medical compounds are growing. What steps can be taken by a medical compounder to reduce extractables?
One of the most noticeable demands from device companies has been for our melt filtration services to remove gels and contaminants in polymers. While these go unnoticed in many large applications, they make all the difference in thin wall tubing and balloons.
Are delivery forms for medical compounds changing (pellets, tubing, film, etc.)?
Pellets are still the dominant delivery form for medical compounds. However, in applications that require highly specialized compounding in a GMP clean room environment, such as implants or drug delivery applications, companies will often request that we provide the material in a more finished form to avoid additional operations outside of the clean environment. These forms have included film, fiber, rod and tubes.
Do you see a trend toward or away from certain types of plastics?
Consumer and regulatory concerns regarding phthalate plasticizers in PVC and Bisphenol A (BPA) in polycarbonate have certainly impacted the use of these materials in certain medical devices.
Is the role for a custom compounder specializing in medical becoming more or less important given new resin producer interest in the market and increasing complexity of requirements?
Our role has become more important than ever, as the bridge between the device companies and the raw material suppliers. Device companies are seeking long term supply stability of materials suitable for their applications. Once the device has FDA or EU approval, changes become considerably more difficult. At the same time, material suppliers want to ensure their materials are suitable for application uses. Often, we are asked to ensure the needs of both parties are met.
How well is the effect of additives (pigments, radiopaque fillers etc.) on mechanical properties understood by medical device design engineers?
Experienced engineers who have worked with radiopaque filled materials, or custom colors, understand the relative impact these additives have on the inherent physical properties of the polymers. However, this is largely empirical. Foster is making a concerted effort to test and publish data for custom compounds using these additives at different loading levels.
How can Foster meet global needs of its customers? Do you need Asian and European outposts?
We have been serving global customers for years with highly specialized materials and volumes that can be shipped overseas with minimal impact on the overall value of the compound.
That said, development of our polymer compounds requires understanding customer applications and tailoring properties to meet precise requirements. We achieve this with regional technical and commercial support.
In North America we have direct Foster staff located in East, Central and Western regions. We recently relocated one of our engineers to India to serve this emerging medical region in Asia, including India, China and Korea. Our representative in Europe, MedNet, is headquartered in Germany covers the entire region with field staff in Germany, France, Israel and the United Kingdom.
---
About Foster Corporation: For nearly 20 years, Foster Corporation has been at the forefront of medical and materials solutions based on extremely precise polymer technology. Foster Corporation is a leading supplier of custom biomedical polymers for the medical device industry, including custom compounds for minimally invasive devices, polymers blends for implants, and drug/polymer blends for combination products